We may be geeks, but that doesn't mean we don't know how to create great things in the kitchen. Some of the best dishes – even snacks! – can be made quickly and easily as long as you know what you're doing. Let's get cooking!
Buffalo chicken, in all its forms, is just delicious. So, we're returning to the buffalo chicken well here with a sandwich that is delicious and really easy to make. The first COOKERY buffalo chicken meal featured was the calzone, which you can read about HERE. I used a recipe from the Eating Well website to guide me through the process.
Getting the chicken right is the most important part of this, and we go back to the way we prepared the chicken for the CHICKEN PARMIGIANA to start out this dish, dipping the chicken breast in a bowl of flour, then egg and then Panko or bread crumbs mixed with black pepper, salt, oregano and whatever other seasonings you're craving. Heat up some oil in a pan on the stove and when it's ready, drop the breaded chicken breasts in. Unlike the parmesan dish, you want to make sure the chicken cooks through without burning the breading, so make sure the burner is on low.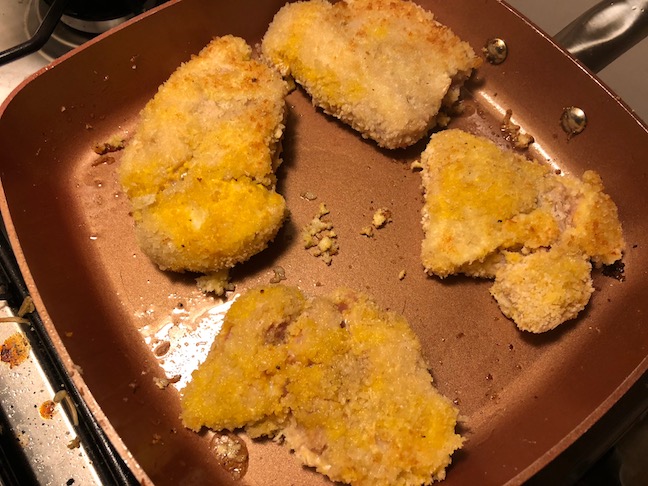 If you have a deep fryer and are planning to use it to make some French fries to go along with the meal, you can finish the breasts off in the fryer to speed things up a bit.
As you're cooking the chicken on the stove, make sure to mix up your buffalo sauce. If you're just using a store-bought bottle, pour it into a large bowl or Tupperware, so you can coat the breasts with when they're done cooking. I made my own mix, melting some butter and adding some barbecue sauce to Ferrari family favorite extra-hot Valentina sauce. I also added some crushed garlic, black pepper and onion powder to the mix to give it some extra flavor.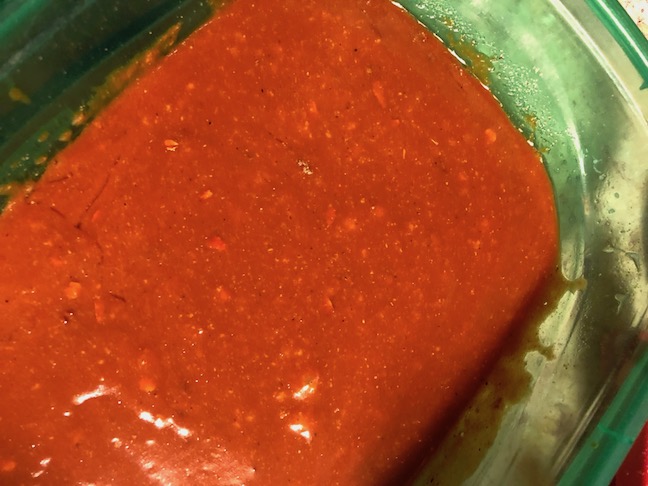 Once the chicken is finished cooking all the way through, put the breasts in the buffalo sauce mix and let them sit, coated on either side, while you make the topping. This is really the place where I follow the recipe pretty closely. In a good-sized bowl, put two tablespoons of sour cream and add in crumbled blue cheese, pepper and a carrot and a celery stalk chopped up into small pieces. Mix it up nicely.
Take the chicken breasts, which should have been sitting in the buffalo sauce for a few minutes now, and put them on buns. Cover the breasts with the sour cream topping. Add whatever sides you want – French fries, preferably alongside some veggies – and you have a delicious and filling meal that's so easy to make!