The "New Age of Heroes" from publisher DC Comics began this week, with the first issue of Damage, and there is definitely a lot of damage done in this issue.
Damage 1
Written by Robert Venditti 
Art by Tony S. Daniel, Danny Miki and Tomeu Morey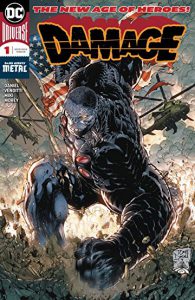 Spinning out of the Dark Nights: Metal event that feels like it's been going on forever, the much-ballyhooed "New Age of Heroes" from DC Comics kicked off with this new character, a soldier who underwent experiments to turn into a living weapon for the government. The monster only comes out for an hour, during which time its host has no control. After that, Elvis Avery has 23 hours before Damage can re-emerge.
We're dropped right in the middle of the action as the book starts, with the titular character escaping from his shackles and on a rampage through the streets as a military detachment tries to get Damage back under control. Avery is aware of what's happening and fruitlessly tries to get the beast to stop. The main antagonist for the book is Major Liggett, who seems jealous that Avery was the one selected to be Damage.
It didn't end well for Liggett, and Damage turns back into Avery, who hides away, waiting on the next time he transforms into the monster. As an added bonus, Amanda Waller is on the scene with Task Force XI. I didn't think this new line was supposed to fit in with the rest of Rebirth, but it really doesn't matter. Having the Suicide Squad in the opening arc gives Damage the proper sense of importance as a threat going forward.

These "New Age of Heroes" books are meant to put more focus on the artist than the writer, and as such, penciller Tony S. Daniel gets top billing in the credits. As usual, Daniel's artwork is top-notch and perfect for an issue full of a destructive battle.
The story, though, didn't exactly feel like a first issue. It felt more like a Zero Issue, which DC Comics used to do back in the 1990s and 2000s to introduce a concept to an audience before the real first issue was released. We got a taste of what's to come, our appetites whetted, but I'm still not exactly sure what to think. I suppose I'm interested enough in what was offered to us that I'll come back next month, but I do hope we get a little more in the second issue.