A new semi-monthly miniseries from DC Comics takes its magic users back to school at Mystik U. Meanwhile, Dylan enacts his plan against the Russians in Kill Or Be Killed.
Mystik U. 1
Written by Alisa Kwitney
Art by Yishan Li, Mike Norton, Jordie Bellaire and Serge Lapointe
Time travel is a pretty common aspect in geek culture, but we get a magical twist on it here in this new miniseries by novelist Alisa Kwitney. The end of things here is actually the beginning, as Rose Psychic, the mystic counterpart of Doctor Occult, uses Zatanna's powers to send the world's mages back in time to stop The Malevolence, an evil force that seems to have taken over the world.
Rose's spell sends Zatanna back seven years, to when she was a teenager helping her father – before her magical powers had come into their own. When an on-stage accident sends her dad to hell, Rose takes Zatanna back to Mystik U, a college where young magicians learn how to use their powers properly. The incoming class of Mystik U. freshman includes one person who will eventually become the Malevolence, and the school's faculty must discover who before it's too late.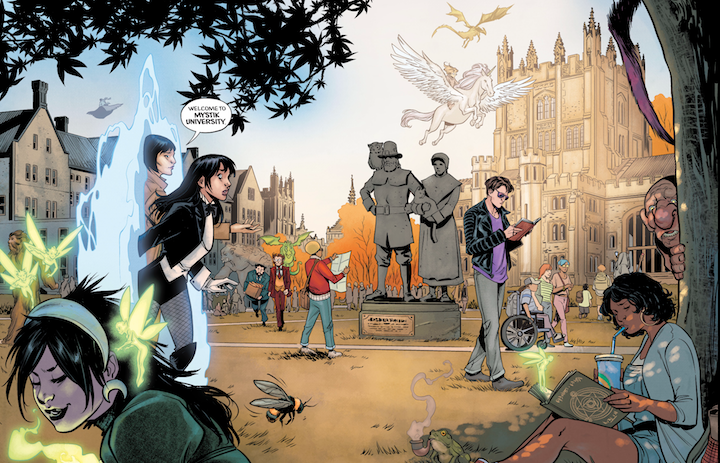 It would be easy to dismiss Mystik U as a copy of another popular Warner Bros. property, the Harry Potter series; or as a rehash of Vertigo's Books of Magick, which featured young mage Tim Hunter (conspicuous by his absence in this first issue) finding his way. But Kwitney's story stands on its own as a showcase for DC Comics' mystic characters, with some (Zatanna, Sebastian Faust, Enchantress) serving as students and others (Rose Psychic, Cain and Abel, Merlin, Frankenstein's monster) acting as faculty and staff.
Mystik U. is set as a three-issue miniseries, but it could just as easily be an ongoing, featuring the occult characters that don't see as much action as the heroes in capes do. Kwitney's first issue is a lot of fun, and I'm looking forward to seeing where the story goes from here.
Kill Or Be Killed 14
Written by Ed Brubaker 
Art by Sean Phillips and Elizabeth Breitweiser 
Advertised as the final issue of the book's third arc, the latest issue of Kill Or Be Killed brings our vigilante's battle with the Russians to a head. Dylan enacts a three-part plan that, he hopes, will finish the Russian mob for good, even going so far as taking out their leader and setting his lavish home on fire.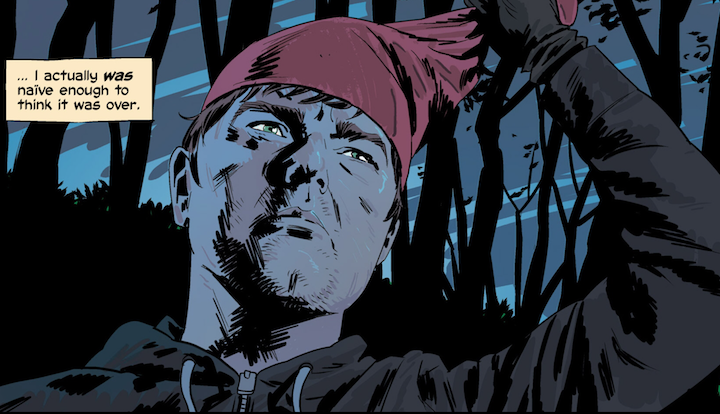 But as he gets the upper hand against the Russians, some more personal problems come to a head, which will surely be examined in later issues. First, his roommate asks Dylan to keep girlfriend Kyra – who used to date the roommate – out of the apartment. Dylan does not take kindly to this.
More importantly, Kyra looks through Dylan's dead brother's files and learns that Dylan's brother reportedly saw the same Demon that's been "forcing" Dylan to kill and also appeared in their father's artwork. With each new revelation about the evil force that has been giving Dylan trouble, it opens up new avenues for where the story can go, and I continue to look forward to the ride.