Let's finish off the weekend with a look at the week that was and the things that are happening in the Geekery world.
Seth Rogan brought Preacher to AMC and now he's moving on to a new Garth Ennis property. According to Variety, the Rogan-Evan Goldberg team is looking to develop Garth Ennis' THE BOYS for Amazon, who have ordered a script from the duo. The series, which ran from 2006-2012, follows a covert CIA team charged with keeping super-powered individuals in check. We'll be following the development of this one…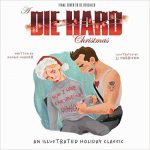 If you can't wait for Christmas, publisher Insight Editions will have you covered next month. They will release A DIE HARD CHRISTMAS: THE ILLUSTRATED HOLIDAY CLASSIC on October 17. The adaptation of everyone's favorite Christmas movie is based on the classic poem, "The Night Before Christmas," and will tell the story of the movie in a "cleverly reimagined homage" written by Doogie Horner with art by JJ Harrison.
Welcome to the party, pal.
This Week On The Geekery
Lots of great stuff here this week, if you missed out on any of it, go back and check it out now!
The big news this week is the debut of the RETRO MOVIE NERD here at the Geekery, as Chris takes a look back at Universal Soldier.
Joe looked back at Season 7 of GAME OF THRONES and ranked each episode. Also from Joe this week, the SONG OF THE WEEK features "Fire" by Dream Wife.
ELLA'S INSIGHTS has returned from its summer vacation!