When something goes viral on the internet, it makes sense to capitalize on it with some merchandise. It may lose some effectiveness after a few years though. I guess we're testing that theory out this week…
When PREVIEWS releases its list of comic book releases every week, it also releases a list of comic/cartoon/movie-based toys, books, magazines and apparel. As I was browsing this week's list of releases, I came across this gem: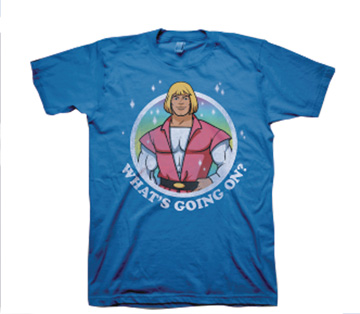 For the uninitiated, this shirt is based on the YouTube video of He-Man's alter-ego Prince Adam belting out the Four Non-Blondes hit, "What's Going On." Yes, it exists.
According to YouTube, that video is at least five years old. The shirt is being produced by Freeze CMI, an apparel manufacturer based out of New York City and is available in small to 2XL, according to the Previews website.
Who knows, maybe this will spark a resurgence of the meme. We could all probably do with some more Prince Adam in our lives.