It's the final WWE Network special of 2016, the 15th overall show of the year and the third Raw-exclusive show since the new brand split. It's Roadblock – The End of the Line!
Oh yeah, and this is the SECOND semi-major show of the year titled Roadblock, after the WWE Network had a special event of the same name back in March, on the Road to WrestleMania. When the title made sense. You know, sometimes I have to wonder if anyone at WWE Headquarters is paying attention to what the company has done in the last 12 months. I'm going with no…
If we're lucky, we'll get a cameo appearance from ROADBLOCK himself…
Alright, alright, fine. The Rock won't show up here. I do actually realize that. Now I know, and knowing is, of course, half the battle.
Thanks, Roadblock!
We start the night with the kickoff show, with some dude with curly hair joining panel as we wait for our opening match. Booker T, who recently announced he was going to run for Mayor of Houston in 2019, does a little politicking. I wonder if WWE will give his opponent equal time… Roadblock?
We're building to the one match announced for the panel, which is:
Rusev vs. Big Cass – This match was set up when Big Cass' partner, Enzo, started hitting on Rusev's wife, Lana. So the guy who was defending his wife's honor is the bag guy here, because that's what WWE does. Rusev deserves much better than this, considering he's been one of the best characters on WWE programming all year. But he got fed to Roman Reigns, lost the US Title and now is on the preshow fighting one half of a tag team. The match amounts to pretty much nothing as Rusev gets a win over the 7-foot Cass by countout, so don't expect this feud to end anytime soon. Unfortunately.
With the preshow ending, that means Roadblock is getting ready to start! Here we go!
[youtube https://www.youtube.com/watch?v=tCqQ_pUz-58&w=560&h=315]
Raw Tag Team Championship: New Day vs. Cesaro and Sheamus – We start with the longest-reigning WWE Tag Team champions defending against a team thrown together after tying a Best-of-Seven series. The writing was on the wall for the New Day, who managed to break the record set by Demolition in 1988-1989, but WWE was clearly building up the Cesaro-Sheamus team over the last month. An okay match, but nothing spectacular, as the European contingent show off some good teamwork to beat the 3-0n-2 New Day advantage and win the tag team titles. Now, where does New Day go from here? Try and win back the tag team titles or push Big E as a singles competitor? I suspect they'll win back the tag titles soon enough, as the wacky tag team partners who hate each other isn't a trope that has a lot of legs.
10-Minute Time Limit: Braun Strowman vs. Sami Zayn – Zayn wanted competition, but General Manager Mick Foley was worried for his safety going up against the former Wyatt enforcer. So, Foley gave Zayn 10 minutes to prove himself here. We have a countdown clock in the corner as Strowman beats on the Uber Driver for the Underground. Strowman has been great lately and should be squashing guys on the way to a title win, or getting fed to Roman Reigns. Meanwhile, Zayn continues his underdog push of getting the crap kicked out of him.
Of course, a standard "little man goes the distance" scenario gets overbooked by having Foley come to ringside with a towel, as both Strowman and Zayn argue with the GM, leading to Zayn using his agility to avoid Strowman and go the distance to survive the 10 minutes. A predictable ending, but sometimes predictable is good.
Seth Rollins vs. Chris Jericho – Rollins is building toward a match with Triple H, while Jericho is headed towards a match with his "best friend," Universal Champion Kevin Owens. The two stories intersect here, as Rollins sows the seeds of dissension between the pals. Jericho has been a highlight on Raw with his List, but the shine is off of Rollins, who isn't really suited for the tweener-face role he's playing. Rollins and Jericho built to a fun match, but there really wasn't much there to hold my interest. Rollins takes the win.
Cruiserweight Championship Triple Threat: Rich Swann (c) vs. TJ Perkins vs. Brian Kendrick – Putting the title on Rich Swann was a good move for the cruiserweight division, but they still are having trouble holding my interest with Perkins and Kendrick in the title picture. I doubt I'm the only one.
See? Even Roadblock is off doing something else. I was wondering where he went. The match was over before it really had a chance to get going, with Swann retaining the title. And then Neville returns from an injury and attacks Swann, at least guaranteeing something new at the top of the division. I think I may be interested now…
Raw Women's Championship 30-minute Iron Man Match: Sasha Banks (c) vs. Charlotte – Most falls in 30 minutes wins. Sasha and Charlotte have been trading the title back and forth over the last few months, with Sasha winning the belt on Raw but Charlotte winning on Sundays during pay-per-views. These two were in the main event of Hell in a Cell in October, one of the most violent women's matches I've seen, so of course that didn't end the feud. This should be the final meeting, but who knows. Their Hell in a Cell match went 22 minutes, so they're used to long matches.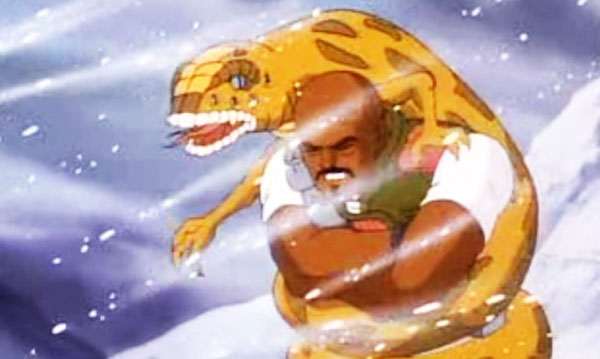 Yeah, it looks like Roadblock is checked out of this show. And there's still a whole lot of women's match left, and a Universal title match.
Charlotte takes just less than 20 minutes to take the first fall, as she looks to defend her Pay-Per-View winning streak. But Sasha cuts back to grab two falls of her own in the next five minutes, leading to a sprint to the finish. Sasha spends most of the last two minutes in the figure four, trying not to give in, but ridiculously taps with three seconds left and the match goes the 30-minute limit with the score tied at 2 falls a piece. Instead of leaving it at a draw, which is what would happen in a normal match, the ref calls for a sudden death overtime, the ol' WrestleMania XII screw-out.
Somewhere, Bret Hart is pissed for Sasha.
With Sasha bleeding from the mouth (or nose), Charlotte locks the overtime Figure Eight and taps, giving Charlotte her 4,000th Raw women's title and defends her Sunday win streak. God, I hope I never see this match in any iteration ever again.
WWE Universal Championship: Kevin Owens (c) vs. Roman Reigns – Reigns returns to the top of the card after a disastrous run earlier this year because WrestleMania season is upon us… and, really, there's no one else to put in the Universal Title match with Owens, who has been more focused on his friendship with Chris Jericho. And, of course, Reigns' US Title isn't on the line.  Owens, of course, mocks Reigns for not putting his title on the line, which is a great little bit of heeling.
Owens and Reigns beat the hell out of each other, including a great sequence of two splashes from Owens onto Reigns on an announce table before the table breaks, with Reigns taking a nine count outside. Then he rolls into the ring for a third frog splash to get a two.
Jericho finally makes an appearance while both men are down from a Reigns speak to Owens, and the discord between the two is paid off. Jericho hits Owens with a code breaker to cause a disqualification, giving the win to Owens, and they reveal they were in cahoots the whole time. Reigns was not happy.
Seth Rollins comes down, hits Jericho with a Pedigree while Reigns nails Owens with a Spear. And then the former Shield friends put Jericho threw a table with a double powerbomb. Owens then gets the same treatment as the show goes off the air with Reigns and Rollins standing tall.
FINAL THOUGHTS: Well, the action was fine, but as usual, none of it will matter by the time the next show comes along. A least Reigns didn't win the title.
We get a break from the single brand shows for January, as the Royal Rumble kicks off the official Road to WrestleMania on January 29. That means 6 whole weeks without a Sunday pay-per-view. Enjoy it, folks.