After a mostly disappointing theatrical debut, Harley Quinn is back and she's brought a band of badass women along with her!
Birds of Prey (and the Fantabulous Emancipation of Harley Quinn)
Directed by Cathy Yan
Written by Christina Hodson
After Warner Bros. announced the Birds of Prey movie – essentially a spin-off of the mostly-forgotten SUICIDE SQUAD movie for Margot Robbie's Harley Quinn – I had a lot of mixed feelings. On the one hand, I'm a huge fan of the BIRDS OF PREY comic books. But the cinematic version of the all-female super team was a little bit different than the comic book version. White the movie team would include important pieces like Huntress and Black Canary, it left off perhaps the most important piece of the comic book Birds: Barbara Gordon, either as the wheelchair-bound Oracle or in her original identity of Batgirl.
After watching the film, though, it makes a lot of sense. While the movie takes place in Gotham City and has ties to a larger DC Universe, Birds of Prey stakes a clear path of independence from the rest of the heroes in the world. There are very few mentions of Batman, his alter ego Bruce Wayne or even Batman's close ally, Police Commissioner Jim Gordon.
You could say that Birds of Prey was not only about Harley Quinn's emancipation from the Joker but also the emancipation of the heroes involved from the larger Bat-family. And it works surprisingly well.
And this version of Quinn, played masterfully once again by Margot Robbie, is easily one of my two favorite versions of the character (the other being from Sean Murphy's WHITE KNIGHT series). Robbie's Quinn accentuates the traits that makes her so compelling. Quinn is a trained psychiatrist who was corrupted by the Joker and turned to a life of crime. While she's frequently portrayed as an agent of chaos who only follows the lead of her boyfriend, Quinn is a brilliant mind . Robbie's performance brings all of that out and offers glimpses of brilliance in her world of chaos.
Quinn takes the lead here, and it's a bit curious as to why her name was made to be secondary to a group of characters that aren't as well known to non-comic book readers. It's especially curious when you consider how popular Robbie's Suicide Squad portrayal of Harley Quinn was. But make no mistake, this was Robbie's movie, and it would not be anywhere near as good as it is without her performance here.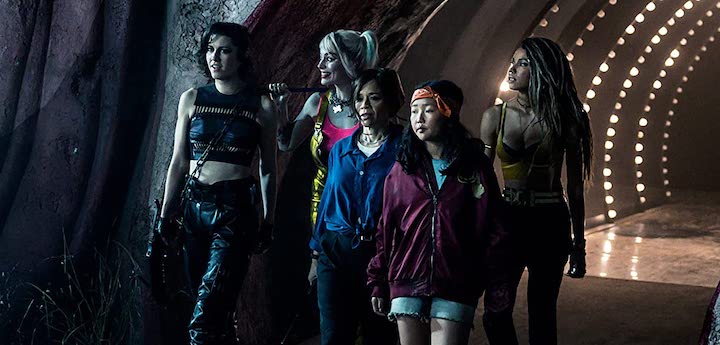 With all the focus on Harley Quinn, though, the titular Birds of Prey are just supporting characters, which is a real shame, because there were a lot of great performances. Rosie Perez does a great job as Det. Renee Montoya, a hard-nosed veteran police who goes a little too far in one of her investigations. Jurnee Smollett-Bell had a particularly tough job in bringing a new version of Dinah Lance to life, as fans of the ARROWVERSE have had a Black Canary on TV for years now. Smollett-Bell's Canary did an amazing job in making the character her own and keeping the spirit of Black Canary in tact.
All of the back stories for the women in the Birds of Prey could have been interesting tales to follow for a spell, but the one character who I would have loved to have seen more of was Mary Elizabeth Winstead's Huntress. Helena Bertinelli's back story is so cinematic – the daughter of a mob boss whose family is killed off by a rival – and even though they spent a good amount of time explaining who she is, they could have done so much more. A lot of Huntress' time of screen is played for laughs, like her anger issues and her attempts at in-fight banter, but Winstead makes it work, and I would have loved to have seen more of her. Hopefully, she gets a chance to take the role up again, because she was one of my favorite parts of the film.
Of course, a superhero movie is only as good as the villain they face. Thankfully, Birds of Prey had Ewan McGregor to play off of here. Playing Roman Sionis – Black Mask – McGregor gets to chew the scenery as a disturbed playboy cut off from his parents' fortune and looking for revenge. With no sign of Bruce Wayne or Batman here, Sionis is the billionaire with a secret identity, though he's a little more open with his sociopathy than Bruce Wayne ever is. Since he's not a very well-known DC Comics villain, McGregor had a chance to put his own stamp on the character without being weighed down by outside expectations, and every scene he was in was enjoyable.
Overall, the latest cinematic foray into the DC Universe was a lot of fun. Things exploded, bones were broken and a new generation of heroes got their chance to shine.