James Bond, Captain America and General Zod gather in a New England mansion to play a game of Clue, in a movie written and directed by the guy who did that Star Wars movie everyone hates.
Knives Out
Written and directed by Rian Johnson
Starring Daniel Craig, Christopher Plummer, Ana de Armas and Chris Evans
I don't get excited about seeing new movies very often any more, but I've been looking forward to seeing Knives Out for a while. I love murder mysteries – though they rarely translate to film as well as they are in a book – and the cast for the film is phenomenal.
Knives Out is filled with traditional mystery tropes. The big mansion in New England. An unsolvable mystery. A dysfunctional family. And a detective pulling at the loose threads of their stories until everything unravels. Writer and director Rian Johnson certainly didn't tread any new ground with Knives Out, but crisp dialogue and the performances from a bevy of talented actors take the story to another level. Johnson does a great job of channeling Agatha Christie, offering unexpected twists along the way.
The story revolves around the death of successful mystery novelist Harlan Thrombey (Christopher Plummer), who was found the day after his 85th birthday in his study with a slit throat. The police investigate, along with consulting detective Benoit Blanc (Daniel Craig), interviewing Thrombey's family members, all of whom had reason to be upset with the family patriarch. But did they have motive enough to actually kill him.
Like any good murder mystery, some of the "twists" are easy to see coming. Once the audience feels like they have a grasp of what's happening and where the film is going, the bigger twists that subvert convention can land as more of a surprise.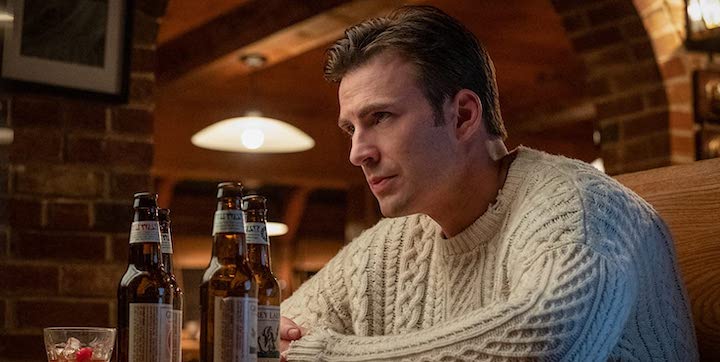 Of course, the supporting cast is important, too. Craig has an all-star line-up of A-list stars and a durable supporting cast to work with here, and everyone plays their part beautifully. My favorite part of the cast was watching Chris Evans – CAPTAIN AMERICA himself – be just a completely self-absorbed, evil bastard. In a crowded field of amazing actors – which also includes Jamie Lee Curtis, Michael Shannon, Don Johnson and Toni Collette – it's tough to stand out. But Evans finds a way to shine, even though he's mostly absent from the first half of the movie.
Much like Christie's HERCULE POIROT, Daniel Craig's Blanc could easily carry a franchise of films, with the detective somewhat bumbling through a series of increasingly complex mysteries until the answers seemingly fall into his lap.
Hopefully, Johnson can parlay the critical acclaim of Knives Out – which it rightly earned – into a new franchise for the lead detective character.