Christmas may be over, but the holiday season continues unabated with movies about the time of year. But some of the best holiday movies aren't uplifting tales of the triumph of the human spirit. Welcome to Dysfunctional Holiday Theater.
It's about that time to take your 2019 calendar off the wall and replace with a new one for 2020. Since I'll be working on New Year's Eve, I thought it would be nice to take a look at a movie that focuses on another guy who had to work on the last night of the year.
Four Rooms
Written and Directed by Allison Anders, Alexandre Rockwell, Robert Rodriguez and Quentin Tarantino
Released in 1995, FOUR ROOMS follows Ted (played by Tim Roth) on his first night as a bellhop at the Mon Signor Hotel in Hollywood on New Year's Eve. Ted is the connective tissue for the film, which features four vignettes about four rooms at the hotel that night. Each vignette is directed by a hot young early-1990s director, highlighted by Robert Rodriguez and Quentin Tarantino, who directed the final (and probably best) two vignettes in the movie.
Like most R-rated movies of the era, I discovered FOUR ROOMS when it hit the video store circuit. Not a whole lot of people saw this one in theaters, but it quickly became a favorite of mine when I later saw it on VHS.
Each of the four vignettes have its own unique cast and each story has its own feel, with brief interludes with Tim Roth's bellhop tying everything together. In the first, Roth assists a coven of witches trying to bring their matron back into the world with a spell. Missing a crucial ingredient – sperm – one of the coven's members turns to Ted the bellhop for some help.
The second vignette has Ted getting mixed up in a weird bit of role playing between a couple, played by David Proval and Jennifer Beals.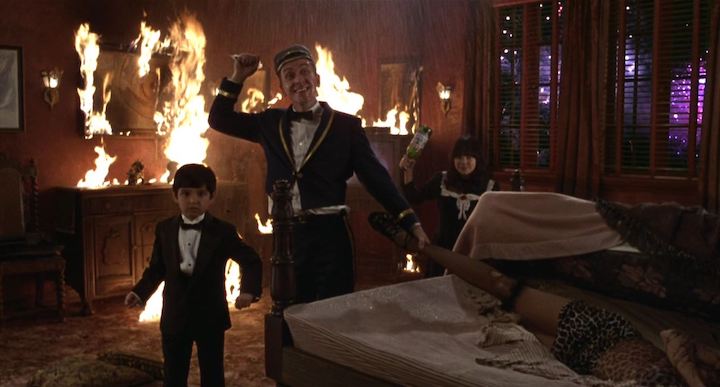 My favorite vignette is the third, directed by Robert Rodriguez, where Ted is asked to watch after two kids while their parents go out to a New Year's Eve party. Ted leaves them to their own devices while he goes about his evening, and the kids get into all sorts of issues. The final scene, with father Antonio Banderas returning to find a room on fire, with porn on the TV in the background and a dead hooker discovered in the mattress, is priceless and makes the whole film worth watching. I still say Banderas' best line here, "Did they misbehave?" all the time.
Finally, Ted has to gather all sorts of weird items for the guest in the hotel's suite, occupied by Quentin Tarantino himself, along with Paul Calderon, Bruce Willis and a returning Jennifer Beals (the only person other than Ted to appear in more than one short). Tarantino and Calderon work their way up to a bet based on an old episode of the TWILIGHT ZONE, and they offer Ted a tidy sum of cash to officiate.
The film is a fun way to kill 2 hours in a very mid-1990s way, with some early works from some very good artistic minds and a favorite of mine to watch around the New Year.