Normally, when I write about a movie I saw in theaters, I sit in front of my computer the next day and get my thoughts on the screen. But with Quentin Tarantino's latest film, it took me almost a whole weekend to wrap my head around what happened well enough to make it worth putting something together. I enjoyed the film in the moment, and I walked out of the theater feeling it was worth my time.
I've admittedly never been the biggest Tarantino fan. Yes, I loved Pulp Fiction and Reservoir Dogs, but nothing since has filled me with any kind of feelings of anticipation to make me want to brave a packed movie theater. I don't really share Tarantino's sensibilities or his love of genre cinema, so his movies often are a tough sell.
But almost everything about ONCE UPON A TIME… IN HOLLYWOOD, appealed to me, and I was enthusiastically looking forward to seeing it. I enjoyed it so much, I may even add it to my Blu-Ray collection.
For his ninth feature film, writer and director Quentin Tarantino takes us back to the late 1960s in Los Angeles, where a former TV Western star has fallen on hard times and is trying to find his footing years after his hit show had been cancelled. Along for the ride is his long-time stuntman, who's become the actor's assistant to help pay the bills.
Rick Dalton (DiCaprio), the star of the cancelled 1950s Western series Bounty Law, is adjusting to a new way of life as a TV guest star, the bad guy in new shows to give the hero some credibility. He's fine with it, happy to get his face out there after losing his series, until he takes a meeting with Marvin Schwarzs (Al Pacino), a producer of spaghetti westerns, who explains that every loss he takes on television hurts his star power.
Dalton's assistant, Cliff Booth (Brad Pitt), is just along for the ride, driving Dalton to sets and running errands for him when he's not working. It would be a nice, if fairly mundane, story about friendship in Hollywood in the late-1960s if not for Dalton's new neighbor in the Hollywood Hills.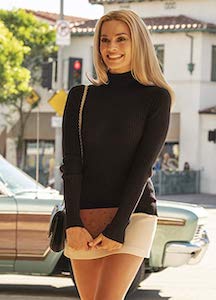 Next door to Dalton lives director Roman Polansky, along with his wife, Sharon Tate (Margot Robbie). Tate was famously murdered in August 1969 by members of the Manson family. The inclusion of Tate in the film adds an interesting twist to the film, and it allows Tarantino to play with the narrative, interspersing other plot lines to break up the story of Dalton and Booth.
The film shifts its focus not only on Tate's life as an up-and-coming starlet married to a famous director but also on a collection of vagrant hippies who live on an old Western film lot where Dalton and Booth used to shoot Bounty Law.
Following Tate adds a level of suspense to the film for anyone who knows the story of her murder, especially as the film counts down the time to the night where her home was invaded. But ONCE UPON A TIME… IN HOLLYWOOD isn't a biopic or a historical drama, and Tarantino takes some liberties with the night of Tate's brutal murder. Everything comes together in a typical Tarantino manner and the simmering conflicts, The film's final act is where the trademark Tarantino over-the-top violence comes into play.
I was somewhat shocked at how tame the movie was, actually, with most of the action coming from a sparring session in a flashback between Cliff and martial arts legend Bruce Lee (Mike Moh). But when Tarantino finally unleashes the violence, it's intense and actually caused me to wince more than once.
Going in to ONCE UPON A TIME… IN HOLLYWOOD, my expectations were tempered. I was interested and intrigued, but knew I could be turned off by the story. But the film kept me interested throughout, building the story to the final moments. It may not be Tarantino's best work, but it's certainly very good.