A satirical take on what would happen if the Son of God returned to Earth, and became roommates with a superhero.
Second Coming 1
Written by Mark Russell
Pencils by Richard Pace
Inks by Leonard Kirk
Colors by Andy Troy
Doing anything that sensationalizes religion in any way is always a touchy subject for some people. No matter what you do, a writer is bound to offend devout individuals, either because they think the writer is making fun of them or because they think the writer is making fun of their religion as a whole. Twenty years ago, when Kevin Smith released DOGMA, which actually handled the tenets of the Catholic religion with some reverence, faithful churchgoers attacked the film almost on principle, without even having seen it.
Mark Russell's latest comic book from Ahoy Comics has already had a troubled path to publication. Originally set up at DC Comics' Vertigo imprint, the publisher cancelled the book when some outrage over the book's premise, which involves God sending his Son back to Earth to live with a superhero to teach Jesus how to be tougher.
On the surface, it seems like it would be harmless enough. Though the reputation Russell built while writing THE FLINTSTONES – and now WONDER TWINS – at DC Comics as taking well-known characters and putting them in satirically political situations would give someone in the know a little bit of pause. Personally, I've loved the work Russell has done the last few years, though as a lapsed Catholic, I'll admit to hesitating a bit before pulling the trigger on buying this issue. Ultimately, though, I enjoy Russell's writing, so I decided to give it a shot.
I wasn't disappointed. And I don't think that anyone who thinks critically about what Russell is saying with this issue, as he points out some fundamental flaws in the actions of some of the more religiously inclined, would have a problem with the contents of the book.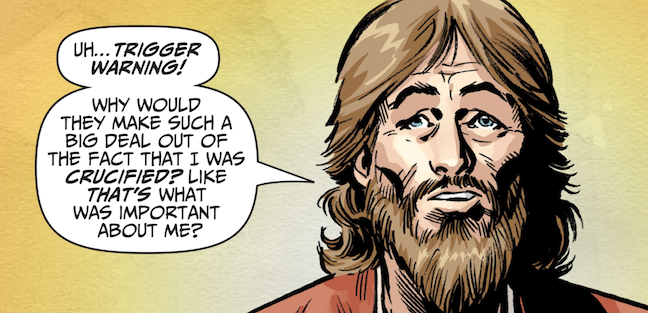 That's not really the way of the world, though.
The first issue of SECOND COMING is a sardonic history lesson about the way God is portrayed in the Bible and Jesus' influence on the world in a relatively short amount of time. It's also the story of a dad who is a little frustrated with his son, who didn't turn out the way he thought he would. Jesus is, according to his father, a little soft. So he turns to a superhero called Sunstar to make him into more of a man.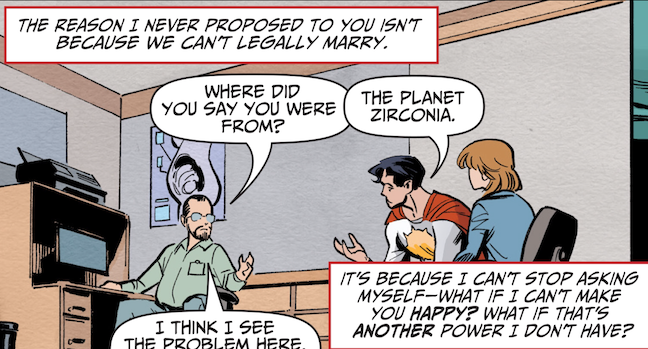 Sunstar, though, has his own problems. His relationship with his girlfriend is strained, because she wants to have children and he's a quivering mass of indecision thanks to his concerns about being an alien. The whole of the first issue is captivating and pulled me into the world instantly, and I trust Russell as a writer to keep me entertained for the rest of the story.