The phenomenon that is U.S. Rep. Alexandria Ocasio-Cortez has reached the final pop culture frontier: starring in her own comic book from Devil's Due!
Alexandria Ocasio-Cortez & The Freshmen Force: Party, Who Dis?
Written by Nick Accardi, Josh Blaylock, Jeffrey Burandt, Kit Coagas, Shawn DePasquale, Dean Haspiel, Sherard Jackson, Adam McGovern, Peter Rostovsky and Pat Shand
Art by Josh Blaylock, Marguerite Dabaie, Travis Hymel, Sherard Jackson, Tim Seeley, R. Sikoryak, Hoyt Silva, K Lynn Smith, Jill Thompson and Sean Van Gorman
Walking through New York's 14th Congressional District last summer, or at least my neighborhood in Astoria, Queens within the district, there felt like there was a change in the air. U.S. Rep. Joe Crowley was being challenged in the Democratic primary for the first time in years. As the primary got closer, something weird was happening, if you were paying attention. Every store front had a campaign poster in their windows of Crowley's primary opponent, a young upstart from the Bronx.
When I spoke to other people in the district, things got curiouser and curiouser, as there was a lot of excitement for Alexandria Ocasio-Cortez's candidacy. Maybe she wasn't going to win, I thought to myself, but she was certainly going to make things interesting for the head of the Queens Democratic Party and one of the ranking Democrats in the House of Representatives.
One year and two big wins later, the newly-elected Representative from parts of Queens and The Bronx is quickly becoming a household name. The left heralds her as a harbinger of a new political wave while the right uses her as the poster child for everything they hate about progressives. With AOC's popularity and name recognition at a peak, it's no surprise that someone would capitalize on it and produce a comic book celebrating Ocasio-Cortez and a new wave of progressive politics in the national conversation.

The comic book itself is set up as an anthology of short stories. Some go into Ocasio-Cortez's history, giving some very shallow biographical details on her way to superstardom. Those stories are all well and good, but as someone who pays attention to politics and national stories, I would have liked to have seen maybe a little more research or heart go into those pages. I don't need full-scale political dissertations on the page, but I think telling AOC's story would have had more affect had everything not been just skin-deep.
Other stories in the anthology get a little bit crazy, and that's where things get really fun. The Congresswoman is reimagined as a professional wrestler (teaming with Bernie Sanders and Maxine Waters in a 6-person tag team match against Big Oil, Big Pharma and the NRA's Dana Loesch, with Jesse Ventura providing color commentary with Don Lemon and Anderson Cooper), or as the Chosen One inside the Matrix (NEO-C), or as a resistance fighter battling to eliminate an orange plague from the White House. The fantasy aspects of the story are wild and wacky and really save the book for me.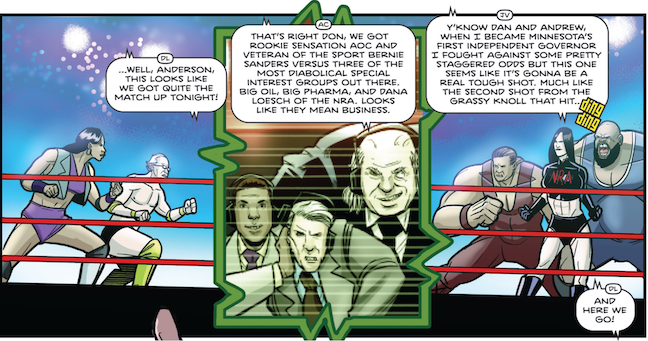 After all, with all the serious stuff going on in the world today, if you can't have some fun, you're gonna go a little crazy.
If you're on the left side of the political spectrum, and a fan of U.S. Rep. Alexandria Ocasio-Cortez, you're going to enjoy this anthology. The presentation of some of the GOP's biggest players along should manage a lot of chuckles as you flip through the pages. One in particular, a "Where's Waldo" type page, challenges readers to find Senate Majority Leader Mitch McConnell's head hidden among a collection of turtles. The creative team on this book had a lot of fun with this.
On the other hand, if you're more on the conservative side of things… well, I doubt you'd buy this anyway.