It's year 2 of the Hallmark Reviews! Aren't you excited? My nipples could cut glass!
We start the season off with a tale from the fictional town of Evergreen, Vermont. This is technically the 2nd "Christmas in Evergreen" film. The first one aired last year starring Ashley Williams (who makes a cameo in this one). I say "technically" because it's not really a sequel as much as it is a spin-off. The main characters from the first movie aren't the main characters of the second movie – they are two completely different characters. It's kind of like how all the TGIF shows were spin-offs of other TGIF shows.
Christmas in Evergreen: Letters to Santa
Starring: Jill Wagner, Mark Deklin, Holly Robinson-Peete and Barbara Niven.
Directed by: Sean McNamara
Lisa (Jill Wagner) and her clearly gay best friend Oliver (Andrew Francis) are interior decorators who want their own store, but they also love traveling around and decorating other people's stores. They just don't want to settle down anywhere. Lisa decides she's going to visit her old hometown of Evergreen for some reason, so she heads that way.
She meets Kevin (Mark Deklin) on the side of the road. He's driving his friend Allie's ridiculously beautiful super old red truck from the first movie, but as was the case in the first one, it's not running well.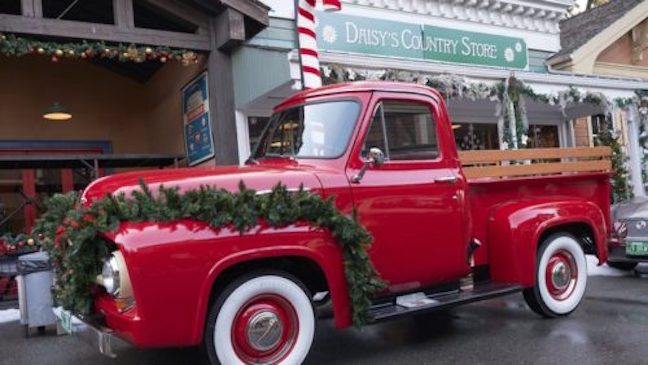 With the banter on the side of the road, you would have thought these two people already knew each other, but they don't. Once she fixes the truck with him, she takes off to Evergreen. There, she meets the townsfolk from the previous movie; Ezra (the mayor), Hannah, Michelle, Allie's nosy mom Carol, Chris (who looks like Santa, and acts like Santa, so he might be Santa) and others no one cares about.
The local general store that was owned by an older lady named Daisy has to be sold or the bank is going to take it. Ezra apparently owns it until New Year's, so he needs to sell it so the general store stays and the bank doesn't ruin the town by knocking it down and putting a parking lot or a Bed, Bath & Beyond in its place. Enter Lisa, who will fix it up and get it sold! She enlists the help of, you guessed it, Kevin. Oh good, he's the only contractor in town. That was lucky!
Lisa finds this Letters to Santa mailbox in the general store that has a letter stuck inside from 25 years ago. The author of the letter says he wants Christmas to be the way it used to be. I'm assuming he's talking about how there are so many black folks in Evergreen now because it does seem disproportionate to the demographics of Vermont. But no, he means the old bells in the town church ringing, and other stuff not pertinent to the story.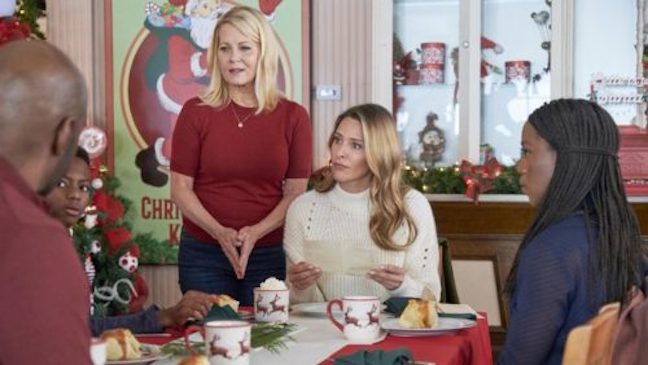 There's a side story about Hannah's brother Thomas and Michelle having a romance, and Thomas' son David being handed a key and he has to find out what it opens. This is all to beef this thing up to an hour and a half.
Back to the main plot, as Lisa and Kevin make Daisy's store look super Hallmarky. Have you ever noticed when they show these people hanging ornaments they always do it wrong? My god, it drives me insane. YOU'RE PUTTING THE BALLS TOO CLOSE TO EACH OTHER! STOP.
Kevin is doing the super annoying Hallmark male lead tradition of seeing the female lead with another guy having a fun time and automatically assuming they're together and walking away. So finally when they go ice skating he gets the balls to ask Lisa about her relationship with Oliver, and Lisa laughs saying "No, we're not a thing. No thing. Not a thing!" as we see Oliver sashay along the ice.
Oliver is an interior decorator, former bronze medalist ice skater. They don't say he's gay because this is Hallmark and they almost assuredly don't want to lose their bigot crowd, but come on Kevin.
Come on, Kevin.
So it turns out the letter to Santa wasn't from Kevin, it was from his dad Henry. He lost his wife 25 years ago, and this was his way of coping with that, I guess. I don't really know. Jill Wagner is a very attractive woman, and she wears so many sweaters in this.
The key that David had in subplot #3 went to the church's clock tower, and so the bells start ringing! It's a Hallmark miracle!
Meanwhile, Allie (Ashley Williams) shows up to let everyone remember that this is somehow a sequel. She does nothing of note.
After another Hallmark third act that sees Kevin thinking Lisa is leaving town but never actually asks her because he's a girl, we get to our finale. No one wants to buy the store, so Lisa and Oliver buy it instead and make it their home base. Yay!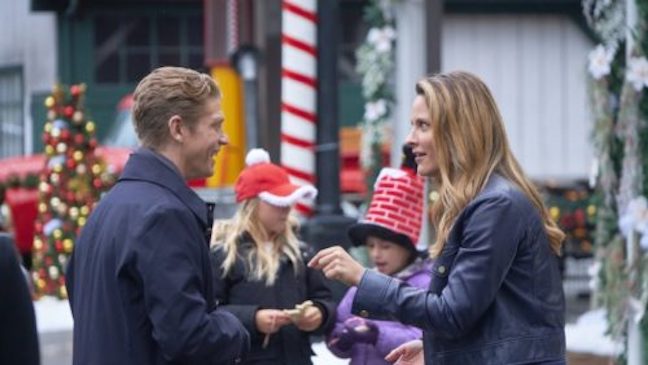 Lisa is staying in Evergreen, and so is Kevin, and they finally kiss and all is well with the world!
Indeed's Piece: This one was held back for having to jam in "remember these people" due to it being a sequel of sorts. But overall, it had many of the Hallmark movie themes that make these fun. Plus, the fact that Oliver was clearly homosexual but they couldn't say that (because MAGA) was terribly entertaining.
Rating: Two and 1/2 Santas (Editor's Note: I was having issues with the Santa images, we'll do better next time! – SJ)