With WrestleMania just around the corner, BOOM! Studios puts out a comic reminiscing about classic moments for Randy Savage, The Miz and Stephanie McMahon in the WrestleMania 2018 Special!
WWE WrestleMania 2018 Special
Written by Ryan Ferrier, Tini Howard, Julian May and Lan Pitts
Art by Jake Elphick, Kendall Goode, Rodrigo Lorenzo, Michel Mulipola
Colored by Doug Garbark
BOOM! Studios has been using the WWE license to not only put out a monthly comic, but they've also put out special issues commemorating the "Big 4" events on the WWE calendar with writers and artists putting their own spin on classic moments from WWF/WWE history.
The latest WrestleMania special highlights four moments from the event's history, with the meat of the issue focusing on two stories about WWE Hall of Famer "Macho Man" Randy Savage. The best story of the four is a look at his WrestleMania VII retirement match against The Ultimate Warrior, but Warrior is really just a footnote in the story. Instead, writer Ryan Ferrier looks at the rekindled relationship between Savage and the lovely Miss Elizabeth, who were reunited after Savage lost the match.
For anyone who has spent the last 27 years wondering what Savage and Elizabeth did after they were brought back together, we get the answer here: they went to an amusement park where Savage planned to propose to his former manager. Weird things kept happening to postpone the proposal, though.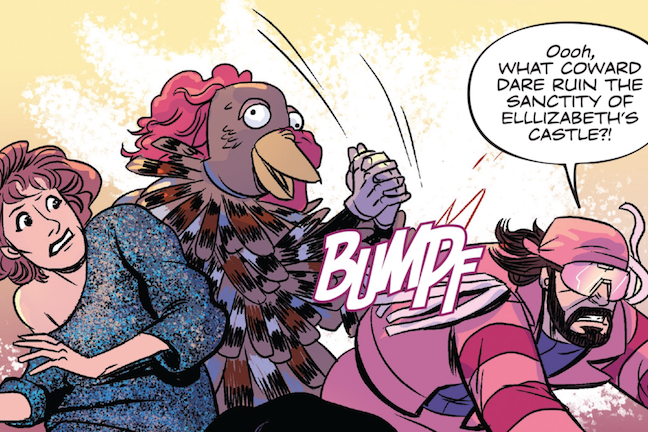 Yes, that's the Gobbledygooker. But inside the Gooker suit is Savage's former manager, Sensational Sherri, who turned on Savage after he lost his match. Seems like she was a little jealous.
The whole story plays out like a weird episode of the 1980s Rock 'n' Wrestling cartoon. That's not a bad thing. It's weird in all the best ways, and Ferrier has fun with Savage's unique speech patterns. He probably would have had even more fun with more of a focus on the Warrior, but that may have also required an acid trip.

The other Savage story looked at his WrestleMania III Intercontinental Title defense against Ricky "The Dragon" Steamboat. Written by Lan Pitts with art from Jake Elphick, "Iron Sharpens Iron" was a much more standard story focusing on the action of the match, with one major liberty taken that I could see: Elphick's art has Savage wearing his sunglasses throughout the match. I can live with it, it definitely would have made the match more unique.
Savage's sagas are bookended by a one focusing on The Miz during his WWE Title defense against John Cena at WrestleMania 27 and another looking at Stephanie McMahon preparing to make an appearance alongside her husband at WrestleMania 32. The art on both of these stories were great, but like most of what's happening in WWE's modern era, it's hard to bring myself to care.