"That's right. When I was your age, television was called books. And this is a special book. It was the book my father used to read to me when I was sick, and I used to read it to your father. And today I'm gonna read it to you."
Thirty years ago today, my favorite movie debuted in limited release. It was the first opportunity movie-goers had to see THE PRINCESS BRIDE. Three decades later, the movie is one of the most beloved pictures ever released. Kids and adults who saw the film in its original run in 1987 still look fondly on the movie. Others saw it later on TV or home video release and fell in love with it.
The Princess Bride is the story of the true love between Buttercup (Robin Wright), who is chosen to marry a prince, and Westley (Cary Elwes), the farm boy who she grew to adore. It's a fairy tale, told by a grandfather (Peter Falk) to his grandson (Fred Savage) in a framing sequence.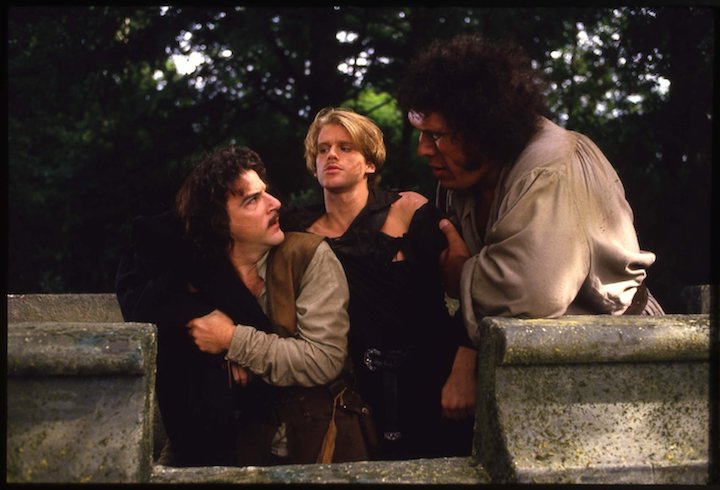 Along the way, Westley battles a Spaniard (Mandy Patinkin), a giant (Andre the Giant) and a battle strategist (Wallace Shawn). He's killed by the Prince who plans to marry Buttercup – thankfully, he was only MOSTLY dead.
Whoo-hoo-hoo, look who knows so much. It just so happens that your friend here is only MOSTLY dead. There's a big difference between mostly dead and all dead. Mostly dead is slightly alive. With all dead, well, with all dead there's usually only one thing you can do. … Go through his clothes and look for loose change.
Over the years, I've owned The Princess Bride on VHS, DVD and Blu-ray. Considering how often I watch the movie, it's surprising I haven't worn through more copies. I've owned at least two copies of the book on which the movie is based – which is told in the same style as the movie, with asides from the author as he tells the story his grandfather told him. The recent editions of the book includes the "first chapter" of a sequel – Buttercup's Baby, which starts not long after the original ends.
With the anniversary of the film's wide release coming up in a couple of weeks, the movie is getting a re-release in theaters. I can't wait to see the movie in theaters one more time.