After more than 30 years, legendary animated voice and casting director Andrea Romano has announced her retirement due to health concerns.
Romano's name is a familiar one to anyone who follows the DC Comics Animated Universe (DCAU), as she has been responsible for almost all of DC's animated offerings dating back to serving as both casting director and voice director on Batman: The Animated Series.
(Her connection to DC animated offerings goes back further than that, actually, since she also served as casting director on 8 episodes of The Super Powers Team: Galactic Guardians in 1985.)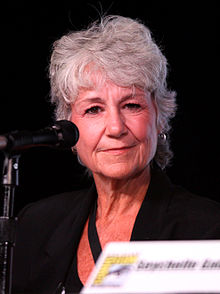 Although she has done extensive work with DC Comics characters, her resume includes finding the right fit for voices on many cartoons that kids in the 1980s right up through today remember fondly. Romano's talents were utilized on shows like DuckTales and the Smurfs in the 1980s, on Tiny Toon Adventures and the Animaniacs in the 1990s, several iterations of Scooby-Doo right up through to her current work on the Netflix revival of Voltron.
And that doesn't even come close to the extraordinary number of animated series that Romano has worked over the course of her career.
Romano has been dealing with  diagnosis of optic neuropathy, which has caused blindness in one eye. In a statement released on Monday, Romano said:
"I shall miss so many aspects of this industry – particularly the people I've worked alongside, and all the fun that happens on both side of the glass. From the bottom of my heart, I extend my sincere gratitude to every actor, producer, director, engineer and colleague that has helped make this run so incredible."
We here at the Geekery wish Romano all the best.