Thirty years to the day after his debut at SURVIVOR SERIES 1990, the Undertaker walked to the ring for the last time tonight, putting to rest the most storied WWF/WWE character ever. Over the course of three decades, the Deadman won 7 world championships, headlined WrestleMania and took part in countless memorable moments. But tonight was the end of the road.
Closing out the evening, WWE brought out 15 legends who had ties to the Undertaker, including Kane, Shawn Michaels, RIc Flair, Triple H, Big Show and others to say goodbye. And then, after we came back from a video package, they were all gone, replaced by WWE Chairman Vince McMahon, who introduced his greatest creation. Undertaker did the slow walk to the ring, gave a short speech and left, leaving behind a legacy that will likely never be matched.
It's just a shame it had to happen without a live audience. That would have been epic.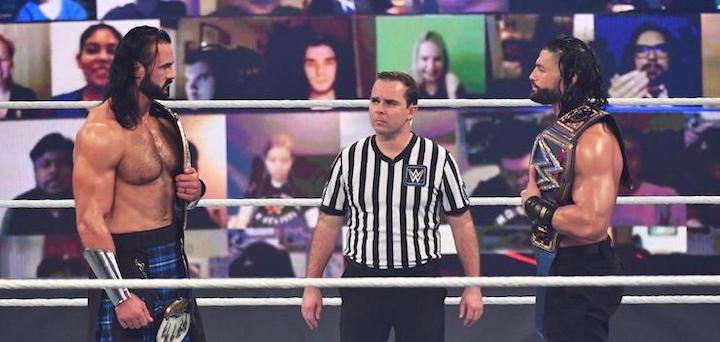 Best Match: Roman Reigns defeated Drew McIntyre – The top dogs on their respective brands beat the hell out of each other in the main event match and it was a lot of fun to watch. Since coming back at SummerSlam and winning the Universal Championship, Reigns, SmackDown's "Tribal Chief" has been mostly dominating cousin Jey Uso, but WWE Champion Drew McIntyre gave him a fight Reigns hasn't seen in a while. McIntyre, who won his second WWE Championship this past Monday from Randy Orton – after losing the title last month at HELL IN A CELL – proved he was in the same league as the Big Dog. But when you throw in Jey Uso, who came down to the ring to hit McIntyre with a timely superkick, it was just too much for the WWE Champion to overcome. Reigns locked in a guillotine to end the match and assert dominance for the evening.
Worst Match: Bobby Lashley defeated Sami Zayn – The battle between the secondary champions of Raw and SmackDown just didn't do anything for me. Zayn, SmackDown's Intercontinental Champion, ran his mouth and ran around the ring while the Hurt Business, United States Champion Lashley's group, stood at ringside and kept Zayn in line. Not a bad match, per se, but I wasn't into it. After Zayn tripped over MVP on the outside and was then thrown back in the ring, Lashley locked in the full nelson for a pretty expected win.
Clean Sweep – The Raw men's Survivor Series team spent the opening match of the Survivor Series bickering over who was in charge. The dissonance didn't hurt their ability to overcome SmackDown's Survivor Series team, led by Jey Uso. Uso was never able to get the team on the same page, evidenced by Seth Rollins entering the ring and going to his knees to allow Sheamus to hit him with a Brogue kick for an easy elimination. Things went downhill from there, as Uso was eventually the last man left facing all five of Raw's team. Once again, Keith Lee showed off his skills, catching Uso off the top rope into a fireman's carry, flipped him around and hit him with an impressive Spirit Bomb for the win, as all five members of Raw's team survived.
Passing the Torch – I thought the battle between tag team champions – who recently swapped titles during the October WWE draft – was going to steal the show. Raw Tag Team Champions The New Day (Kofi Kingston and Xavier Woods) had a great match with the Street Profits, Montez Ford and Angelo Dawkins. Ford and Dawson – who gave a great promo before the match – have such great energy and I've enjoyed their matches this year. Matched with Woods and Kingston, who have no problems ramping it up in the ring, meant we got a great fast-paced contest. As good as New Day is, tonight Ford and Dawkins were better, capping off an impressive year with a win over one of WWE's best teams.
Lana Number One – A great Survivor Series Elimination Match has to tell a great story, and the women's match this year delivered. The focus of the match was on the bullying of Lana by women's Tag Team Champios Nia Jax and Shayna Baszler. After spending more than 2 months putting Lana through tables on Raw, Jax and Baszler weren't pleased having Lana on their Survivor Series team, forcing her to spend most of the match standing on the steps so no one would tag her in. The women's match was much more competitive than the men's contest, but Raw still managed to take a 3-on-1 advantage towards the end, with Jax, Baszler and Lana left against SmackDown's Bianca Belair. But Baszler got herself disqualified. And then Jax and Belair started brawling on the outside and quickly were counted out, leaving Lana as the sole survivor on the Raw team. As a bonus, no one put her through an announce table. It was a fun payoff to the story of the match.
Ranking Survivor Series 2020
1 – Roman Reigns defeated Drew McIntyre 
2 – Elimination Match: Team Raw (Nia Jax, Shayna Baszler, Lacey Evans, Peyton Royce and Lana) defeated Team SmackDown (Bayley, Ruby Riott, Liv Morgan, Bianca Belair and Natalya)
3 – Street Profits defeated New Day 
4 – Sasha Banks defeated Asuka 
5 – Elimination Match: Team Raw (AJ Styles, Keith Lee, Sheamus, Matt Riddle and Braun Strowman) defeated Team Smackdown (Jey Uso, Kevin Owens, Otis, Seth Rollins and King Corbin) 
6 – Bobby Lashley defeated Sami Zayn
Yay or Nay – What a great show. Nothing really disappointed at all. Each match told a good story and everyone delivered. One of the better WWE Network specials of the year.
The Undertaker may be gone, but WWE will continue with one more show for 2020. We'll back back in December for TLC: Tables, Ladders and Chairs!